Click

here

for a virtual tour of Sophie's Rooms
Welcome at Sophie's Rooms!
Throughout its over one hundred years of existence, our family home witnessed the lives of many generations.
Just a stone's throw away from the European Quarter (20 min by foot from Schuman), equipped with a diverse and colourful history, this beautiful period house (Maison de Maître) is embarking on a new adventure in 2013.
Avenue Diamant 142 is opening its doors to travelers: be it for a week-end escapade into the heart of the European capital or for a longer stay, you will feel at home in Sophie's Rooms because of:
* their comfort – the renovation and remodelling of the rooms was finished in January 2013. All rooms have their own bathroom with shower and private toilets.
* their breakfast – full continental
* their location – 15 minutes by public transport from the center of Brussels
* their accessibility – tram and bus stops nearby and a direct busline to Brussels international airport, private parking possible (contact us)
* their price
2 or 3 nights: 80€/night for 1 people – 100€/night for 2 people, breakfast incl.
> 3 nights: 70€/night for 1 people – 90€/night for 2 people, breakfast incl.
Extra cost for 1 night and baby bed.
Taxes: 6% VAT to add, tourist tax included
Numerous small groceries shops, bakeries, dry cleaning etc are just around the corner as well as a park and many more things to discover …
Don't hesitate to contact us for further inquiries or reservations.
We look forward to welcoming you to Sophie's Rooms!
Sophie et François T'SAS
——————————————————–
High standards of hospitality!
It is ultimately the human dimension that prompted us to open our doors to travelers. We would like to make your stay as comfortable as possible in an informal and family-style athmosphere, which you will not find in large hotels. Hosting you at Sophie's Rooms is a privilege for us and we will serve you breakfast whenever possible.
————————————————————————————–
Homestay – Bed and Breakfast
Brussels-Capital Region
Number: 500036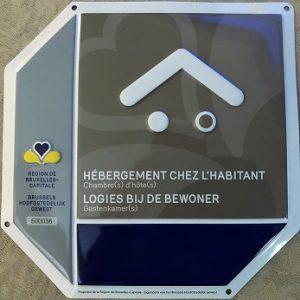 ————————————————————————————–

————————————————————————————–

————————————————————————————–

————————————————————————————–